LEASING ENQUIRIES
Secure your future at the revitalised Singleton Centre
by contacting our leasing team today.
---
Healthcare Leasing Enquiries
---
The Singleton Centre has seen a shopping centre renovated and transformed into a medical and services precinct.
The centre aiming to provide Singleton with convenient access to a comprehensive range of healthcare services and specialists.
The centre can provide a range of healthcare operating models including independent tenancies, shared and sessional tenancies.
Amenities include:
140 undecover car spaces
On site cafe and gym
Joh St (main street) signage rights available
Bathrooms, loading dock access, daily common area cleaning and security.
Recently opened large medical centre, and other committed healthcare providers.
The Centre is targeting a broad range of health and medical users:
Allied Health
Specialist Medicine
Alternative therapies
Health retail
Public Health
Preventative Health and Wellness
The Centre is also seeking further corporate and business tenants for its "Business Centre" providing a range of office opportunities with direct access to the amenities of the centre. Available tenancies from 80m2 to 900m2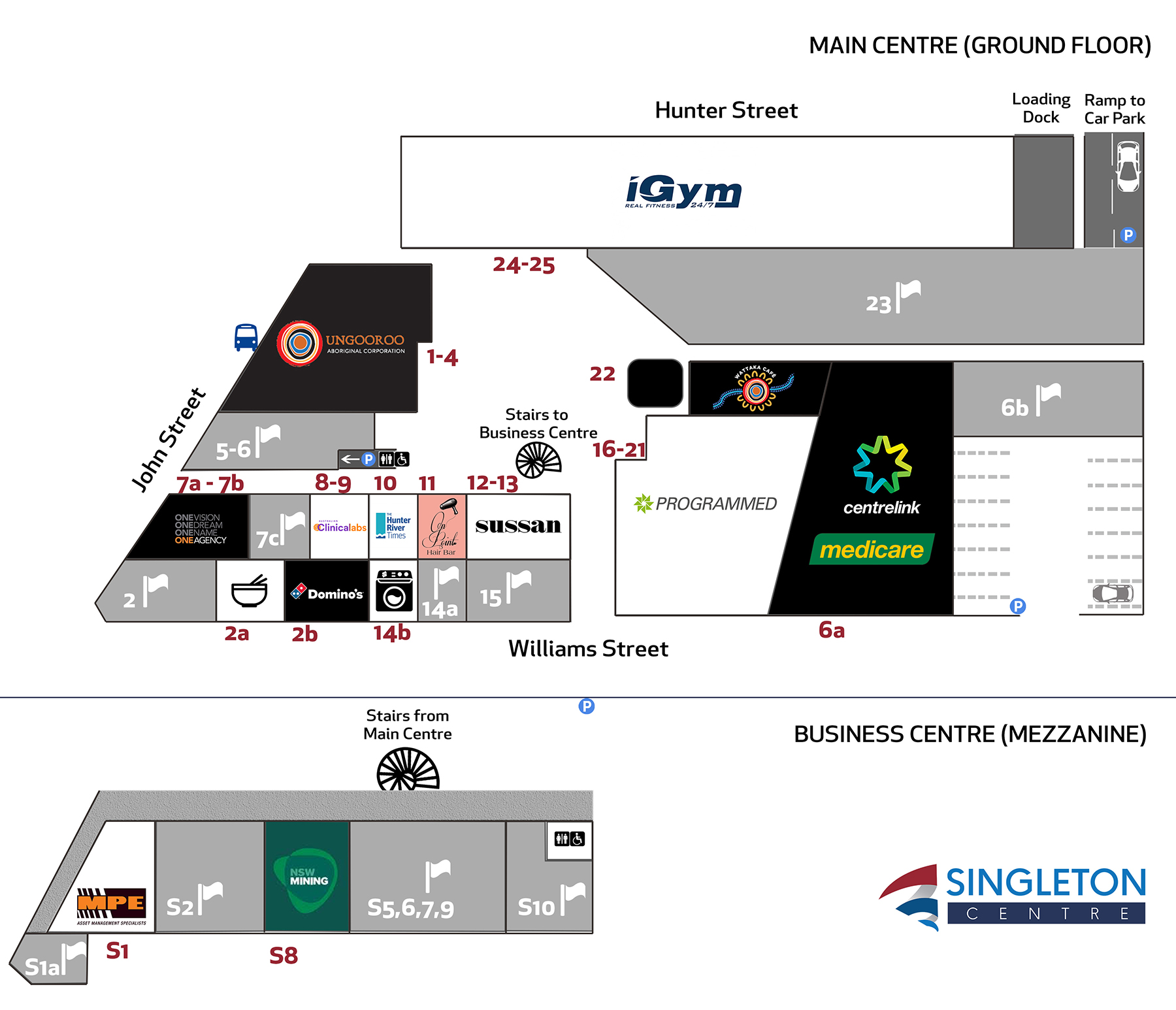 Available tenancies for lease
Main Centre (Ground Floor)
Shop 2: 130 m2
Shop 5-6 : 230 m2
Shop 7c : 75 m2
Shop 15: 130 m2
Shop 14a: 47 m2
Shop 23: 890 m2

Shop 6b : 264 m2 (Separate from Centre. Entry from Williams Street)

Business Centre (Mezzanine)
Suite 1a: 85 m2
Suite 2: 130 m2
Suite 5-9: 370 m2
Suite 10: 97 m2

Note
Area sizes are indicative only and subject to a final survey.
Tenancy Enquiry
Please fill in the below fields and we will respond as soon as possible